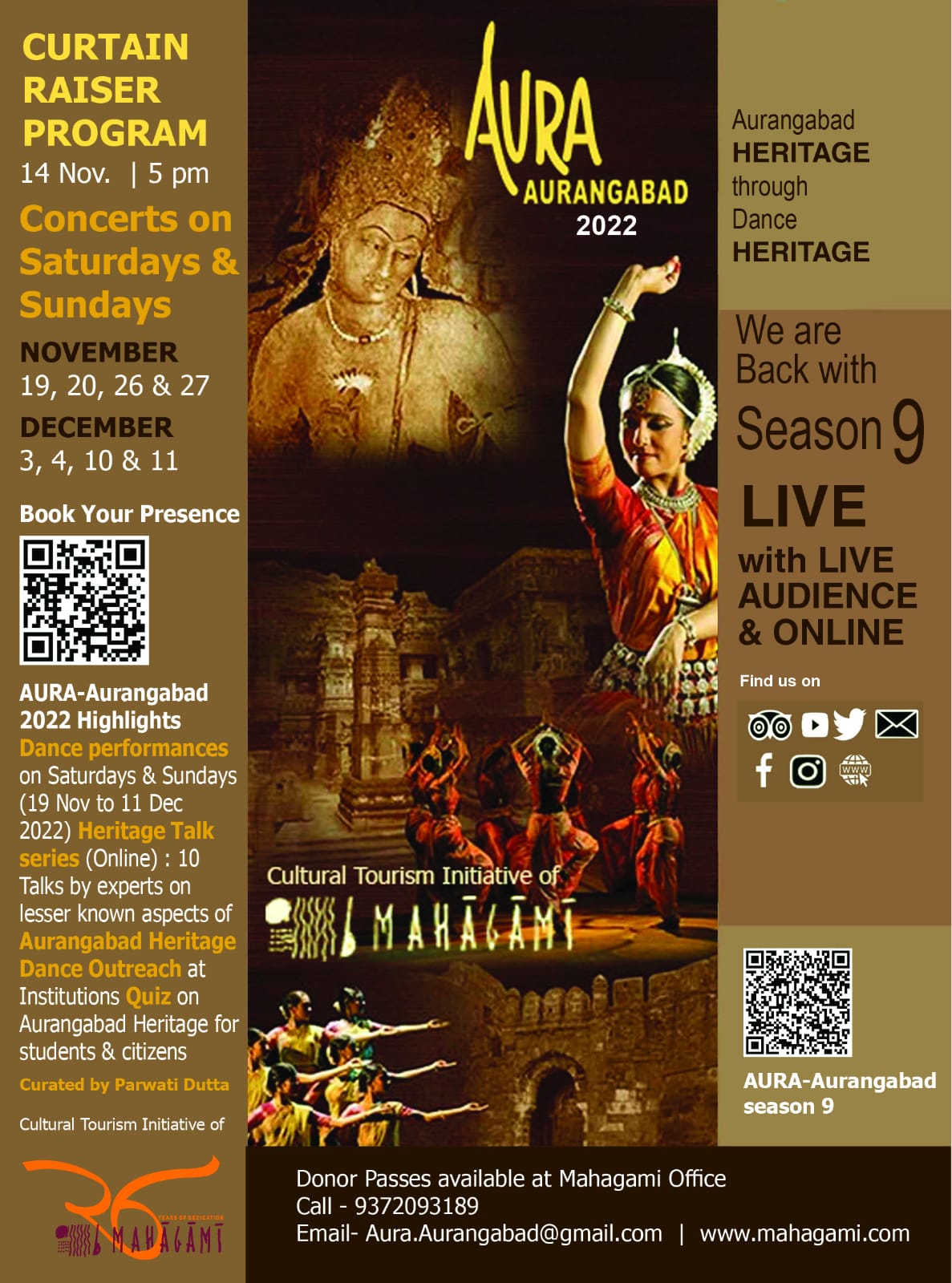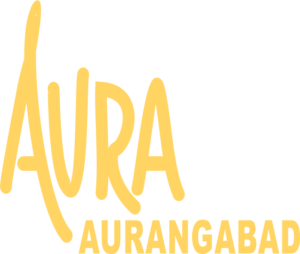 Aurangabad Heritage through Indian Dance Heritage
"Aura Aurangabad" Season 9 begins from 14 November 2022
AURA-Aurangabad 2022 Highlights
Dance performances on Saturdays & Sundays (14 Nov to 18 Dec 2022)

Heritage Talk series (Online): 10 Talks by experts on lesser known aspects of Aurangabad Heritage

Dance Outreach at Institutions

Quiz on Aurangabad Heritage for students & citizens
All Heritage lovers, Rasikas, Media, Tourism fraternity, Hospitality agencies, travel agencies and concert- goers are requested to extend their whole hearted support in making this unique dance concert series successful.
Curated by, 
Parwati Dutta (Director, MAHAGAMI)
For more details, please contact MAHAGAMI WhatsApp: +91 9372093189
MAHAGAMI GURUKUL
Phone No.:- 0240-6481070 (Ext-31 or 33)
It gives us immense pleasure in sharing that the 9th edition of the Dance concert series 'Aura-Aurangabad' will be presented this year from 14 Nov. 2022, 5 pm. AURA-Aurangabad is a Dance concert series curated by Guru Parwati Dutta to celebrate Aurangabad Heritage through Indian Dance Heritage. The series aims to create a deeper understanding of Indian Traditional arts and the correlation of Dance with Heritage sites. This CULTURAL TOURISM initiative has received more than 30,000 art-seekers as audiences in the past 8 years. It is also worth mentioning that MAHAGAMI GURUKUL has been enlisted as a recommended destination of Indian Heritage Arts and Gurukul Lifestyle by Maharashtra Tourism Development Corporation. Over 26 years of dedicated work of MAHAGAMI GURUKUL under the leadership of Guru Parwati Dutta, many initiatives on Aurangabad Heritage, Indian Cultural Heritage and Cultural history have been introduced involving more than 2000 artists, 1000 researchers and 2,00,000 audiences. AURA-Aurangabad dance concert series has also emerged as a much awaited event for the rasikas and cultural seekers and also a prestigious platform for the talented dancers across the world. Many emerging dancers of various dance styles and promising students of MAHAGAMI GURUKUL have received performance opportunities and artistic encouragement through this initiative.
Curator's Note
'Aura-Aurangabad' celebrates the rich heritage of our city through the Indian Dance Heritage. We welcome you to be an active participant, attendee and rasika in our initiative. The concert series is being revived after a gap of one year and we hope to receive the warm support and encouragement of our audiences in this edition. The dance concerts are being presented by young upcoming artists who represent the next generation of dance practitioners. Indian Classical Dance is an intangible heritage. So, it is important to consistently nurture, mentor, support and patronise the practitioners, thus preserving the heritage. Any discontinuity in the performance practice can cause serious irreversible damage to the heritage. With this vision and awareness, Mahagami strives to be resilient in these turbulent days. Your presence and support will go miles in supporting and restoring our heritage practice and also in encouraging our young artists.
 – Parwati Dutta
SCHEDULE
Concerts in Aura Aurangabad Season 9 | Nov-Dec 2022
14 Nov | Curtain Raiser

19 Nov | Kathak by Mahagami artists

20 Nov | Odissi by Mahagami artist | Kathak by Nilima Hirve (Mumbai)

24 Nov l Odissi by Mahagami artist

25 Nov l Kathak by Mahagami artist

26 Nov I Kathak by Eshani Sathe (Mumbai) I Odissi by Srabani Basu (Pune)

27 Nov I Kathak by Purva Shah (Pune)

03 Dec I Kathak by Sohini Pyne (Kolkata)

04 Dec I Kathak by Kantika Mishra (Lucknow)

10 Dec I Kathak by Vishwadeep (Delhi)

11 Dec I Kathak by Pooja Pant (Mumbai) I Bharatnatyam by Radhika Muley (Pune)

17 Dec l Mahagami artists

18 Dec l Mahagami artists
AURA Aurangabad Video Presentation
AURA Aurangabad Media Coverage