WORLD DANCE DAY celebrations at MAHAGAMI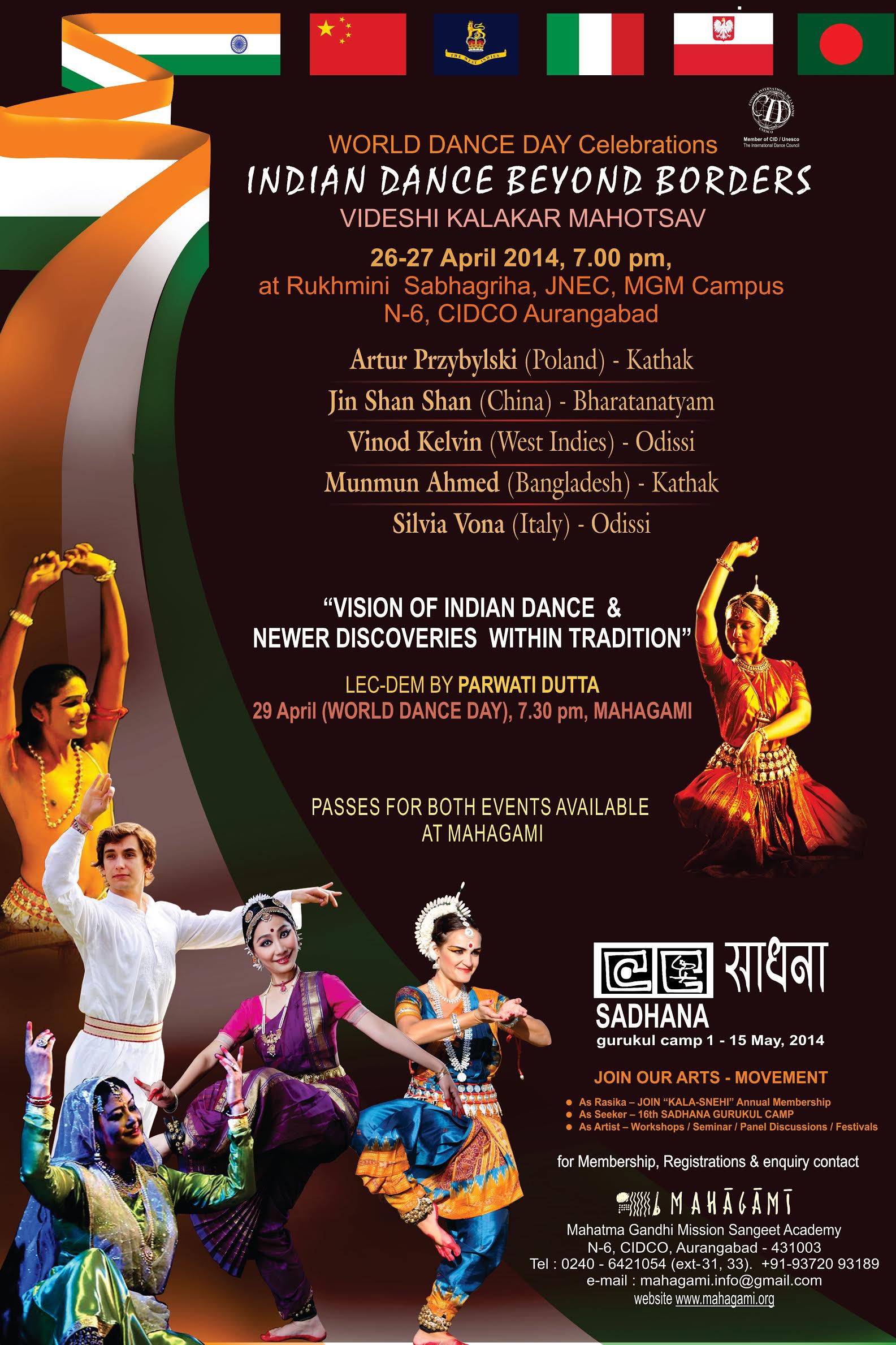 Dates
Saturday, 26th Aug, 2016

Sunday, 26th Aug, 2016
Indian Dance traditions trace a History of Thousands of years and today, we can see its evolved and disseminated form. Artists, Scholars and Students studying and preaching these traditions are spread all over the world. Over centuries, the flow of tradition has introduced a new dimension and form to the Indian Classical dance which is more than Indian today, as it has become GLOBAL!
With this theme for this year's World Dance Day celebrations, we at MAHAGAMI, are all set to host a unique dance festival; the first-of-its-kind in Maharashtra on 26-27 April 2014, 7 pm at Rukmini Sabhagriha, Aurangabad and on 28 April, 7.30 pm at Vishnudas Bhave Natyagrih, Vashi. Some excellently trained dancers from various countries will present our own Indian traditional dance performances in traditional format with all their 'bhakti' here in Aurangabad. Do join us in making this unique event a successful and memorable one!
Our artists for the festival-
JIN SHANSHAN (China) – Bharatanatyam | MUNMUN AHMED (Bangaldesh) – Kathak | SILVIA VONA (Italy) – Odissi | 
ARTUR PRZYBYLSKI (Poland) – Kathak | VINOD KEVIN (West Indies) – Odissi |
DONOR PASSES AVAILABLE AT MAHAGAMI. Call-9372093189, +91-240-6421054 (ext 31,33).
LEC-DEM By Parwati Dutta (Odissi)
Parwati Dutta – the Director & Guru of MAHAGAMI will present an interactive an informative performance along with her disciples on " VISION OF INDIAN DANCE". Tracing concepts from shastras, she will take the audience throughan artistic journey tracing 1000 years of dance-creations. Some of her recent compositions will be presented that are contemplative, research-oriented and have a fresh approach to the traditional format of Odissi without any trace of modern experimentation.
World Dance Day is celebrated all over the world by the international community of dance –specialists and dance –organizations. The International Dance Council, UNESCO aims at protecting the dance heritage, promoting creations and research activities on dance traditions, promoting dance education in formal education and to establish documentation and dissemination centers in different parts of the world. MAHAGAMI, as a member of International Dance Council, UNESCO and as one of the premier dance centers in the country has been consistently doing a lot of work for the promotion of the dance heritage of India and for establishing a dialogue with the masses through unique events and projects each year.