Dean – Performing Arts; Kathak & Odissi Mentor; Director – MAHAGAMI
An evolved performing artiste, thinker, researcher, writer and a dedicated Arts Administrator; Parwati Dutta is the Founder-Director of Mahagami Gurukul, Aurangabad. She is an active commentator on Arts, Heritage, Ecology, Indology, Education and Media Studies. She is credited of introducing Kathak and Odissi in Marathwada region and producing many artists, performers, teachers and researchers over a span of 23 years. Having travelled for lectures, conferences, workshops and concerts to more than 40 countries, Parwati's teaching blends traditional knowledge with research findings and redefined aesthetic sensibilities, while initiating creative quest amongst learners. She also nurtures a unique Gurukul-based school named Vidyā-Araṇyam as Vision Director. Parwati has authored a book on Indian Classical Dance named 'Nritya-Gatha' which is published in 5 languages: Hindi, English, Marathi, Bengali and Malayalam and edited publications 'Vayam' to mark 21 years of Mahagami, and 'Unnayan' to mark 25 years of Mahatma Gandhi Mission. She recently authored her second book named BAGH TALAV:Tiger Ecology Narratives highlighting 12000 year-old Tiger-Human interactions and impacts on Cultural Ecology.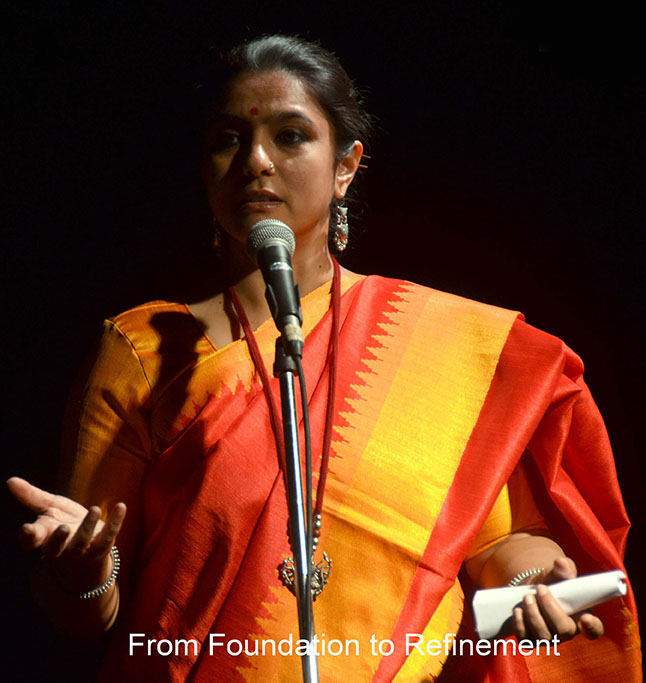 Recipient of UNESCO Cultural Award, Bharat Kala-Ratna to name a few, her research writings have been published by Sangeet Natak Akademi, Bharatiya Vidya Bhawan and other publishers. A film 'Vaikhari' has been made by PSBT (Prasar Bharati) which revolves around her creative explorations with rhythm and utterances. She is also featured in 2 documentaries by BBC, Channel Four (UK) and Doordarshan. Parwati Dutta is associated with few Indian and Foreign Universities as Adviser and Visiting Mentor/Master and with IIM Bangalore as Adjunct faculty.
Contributing Gurus / Mentors / Experts
1. Dr Jayshree Rajagopalan, Dance scholar and Guru
2. Dr. Chetana Beohar, Kathak scholar and Guru
3. Dr. Karuna Vijayendra, Dance scholar and Historian
4. Dr R. Ganesh, Sanskrit and Dance scholar
5. Manik Walavalkar, Expert on Art History and Visual arts
6. Piyal Bhattacharya, Expert on Dance and Theatre

7. Uday Bhawalkar, Dhrupad Guru
In addition, there are teachers for Yoga, Sanskrit, Music, Languages and Skills.
Advisers and Mentors
1. Padmavibhushan Birju Maharaj, Kathak Maestro
2. Padmashri Madhavi Mudgal, Odissi Guru
3. Padmashri Ratan Thiyam, Theatre Personality
4. Prof C. V. Chandrashekhar, Padmabhushan awardee, Dance Academician 
5. Padmavibhushan Adoor Gopalkrishnan, Dadasaheb Phalke Awardee, eminent Film Maker, Gandhian, thinker

6. Padmashri Darshana Jhaveri, Manipuri dance Guru
7. Pt. Nirmalya Dey, Dhrupad Guru
8. Dr. Anil Bihari Beohar, Musicologist , Odissi Guru